"...as close to art as pop music gets."
Rolling Stone 
Madonna's Like A Prayer turned 25 years old this month. I repeat, 25 years old.
Allow that to sink in for a minute. Shake your head, despair at where the time has disappeared to, embrace the sharp pang of nostalgia that wallops you in the face and then - rejoice. Find it on iTunes. Dance liberally. Dig out your beaded crucifix and faded denim and channel late 80s / early 90s. Remind yourself what an incredible album it is.
I was 11 years old when Like A Prayer was unleashed on the world with a distorted guitar riff, a church door slam and an oo from the euphoric gospel choir. It was a simple, carefree kind of time for me with cassette tapes and record vouchers, Smash Hits magazine and hanging out at the Streatham Ice Rink disco looking for boys (I mean perfecting my skate) before hopping on the bus home for dinner and Saturday evening TV.
I thought I knew everything I needed to know, but really I didn't know very much at all. But when I heard the album, I knew, just KNEW, it was something really very special. I already loved Madonna: The First Album, Like a Virgin and True Blue but in my opinion this was her seminal work. Madonna had grown up.
Like a Prayer was released on 21 March 1989 by Sire/Warner Bros. Records, and was Madonna's fourth studio album. Praised by critics and fans, it reached the top of the charts all over the world staying at the top of the Billboard 200 chart for one month and reaching No.1 in the UK Albums chart. Produced and written by Stephen Bray and Patrick Leonard, Madonna co-wrote and co-produced every song on the album and it went on to sell over 15 million copies worldwide.
Like a Prayer is a multifarious collection, and it is the variety that keeps it fresh 25 years on, layered with celebrated pop classics, deeply personal ballads and candy sweet lullabies. Introspective, it covers a multitude of themes including religion, empowerment, crazy love, unbearable pain and family loyalty over 11 brilliant songs.
When I first heard the title track Like A Prayer I didn't know quite what had hit me. This was of course pre-downloads, before the immediacy and easy availability of iTunes, Google and Twitter, and I waited impatiently for it to be played on the radio, then listened over and over on cassette when I finally had my own copy. It was a captivating, innocent time when you waited with excited anticipation to buy a single or album on the release date. When MTV would proudly announce the UK PREMIERE of a naughty Madonna video NEXT MONDAY AT 10PM, and you would wait a week and stay up late to watch it rather than simply YouTube it.
It is a powerhouse of a song; a rapturous gospel choir, Madonna's euphonic vocals and the evocative lyrics. My own religious belief extended only to a casual Sunday Service and winning Explorer of the Year at Girls' Brigade a few years back, but Oh God, I thought I was falling. Then I saw the accompanying music video.
Teeming with Catholic iconography, Madonna dances in THAT dress in front of burning crosses, shows bleeding stigmata as though she has survived a crucifixion, and kisses a black saint played by Leon Robertson. Condemned by the Vatican and causing Pepsi to cancel its sponsorship contract with Madonna, it was provocative and brilliant. To this day Like A Prayer remains one of my favourite songs ever recorded. It hasn't corroded and still sounds as fresh now as it did then.
Express Yourself is bold and fierce, channelling female empowerment and telling us girls to never settle for anything less than we are worth. I defy any woman not to smile when they hear 'Come on girls / Do you believe in love?'
Love Song, the duet co-written and performed with Prince, tends to be regarded as the dud one on the album by fans and critics alike, but I disagree. I quite like it, with it's come-hither attitude and smart lyrics. Dear Jessie was a little too saccharine for some people, but not me. With pink elephants and lemonade, it conjures up soothing thoughts of being a child and living in a land of make believe, and the violin piece is undeniably beautiful even if it did precede the rather more sombre introduction of Oh Father.
The album is confessional as well as entertaining. Till Death Do Us Part is about the violent dissolution of Madonna's marriage to Sean Penn and so should be gloomy with it bitterly sad lyrics  - The bruises they will fade away/ You hit so hard with the things you say - but it isn't. Instead it is a great pop song, revealing that Madonna just wanted to be loved, and don't we all?
Cherish is an absolute corker, a beautiful and carefree song that makes me ridiculously happy and buoyant. The music video, shot in black-and-white and directed by Herb Ritts, depicts Madonna looking breathtakingly beautiful frolicking in the sand while mermen whisk up the sparkling foamy ocean with their tails.
Keep it Together is sassy, funky and a nod to Sly & The Family Stone's A Family Affair. As a middle child with a big and little sister not too far apart in age, it really resonated with me. Growing up there were squabbles and involuntary room sharing and the usual craving for our parents attention but the song preaches the importance of family. They are a reminder of your history and blood is thicker than any circumstance.
Like A Prayer has no fillers. Autobiographical, it provides a fascinating insight into Madonna's life, loves and losses at the time and illustrates her compelling artistry and creativity. It still makes me want to sing out loud on the tube, dance around, leaves me unexplainably happy and then gives me a lump in my throat before I know it. It empowers and guides me, reminds me that women are not BOSSY they are dynamic. Like Hadley Freeman cites in her piece for the Guardian, naming it her favourite album, I have an emotional connection to it. It is part of me.
Madonna continues to endure; an idol, an inspiration and a creative force to be reckoned with and Like A Prayer remains culturally relevant after 25 years. It is quite simply an incredible piece of music.
Happy 25th anniversary  - here's to many more.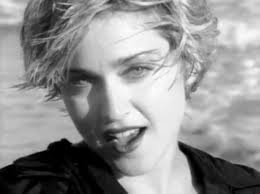 References and Credits:
[youtube http://www.youtube.com/watch?v=79fzeNUqQbQ]
[youtube http://www.youtube.com/watch?v=GsVcUzP_O_8]
[youtube http://www.youtube.com/watch?v=MZ1q1iFy45I]
[youtube http://www.youtube.com/watch?v=40BtRy4NbIc]
[youtube http://www.youtube.com/watch?v=fPL2kuFnUT8]
[youtube http://www.youtube.com/watch?v=8q2WS6ahCnY]
[youtube http://www.youtube.com/watch?v=EGYmN-1UQzI]
[youtube http://www.youtube.com/watch?v=qvVvN0QvzTk]
[youtube http://www.youtube.com/watch?v=3X1G_F0x6NY]
[youtube http://www.youtube.com/watch?v=YF68OPZEnVs]
[youtube http://www.youtube.com/watch?v=kNrTE936e1w]